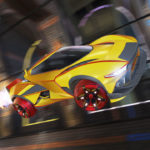 Rocket League's first item series since going free-to-play is just days away. The aptly-named Season One Series will make its debut on Oct. 19 with a series of cosmetics and a new supercar, Psyonix announced today.
The Insidio offers a sporty, compact look that's slightly reminiscent of the Guardian and Nemesis Battle-Cars. Psyonix hasn't revealed what unique decals the new car will bring, but the Season One Series also has the Silencer Decal for the Insidio—similar to Octane's Slimline pattern.
The upcoming series will add "more than a dozen" new cosmetics that range from wheels to Black Market decals and goal explosions. The Stipple Gait decal appears to give an ethereal, velvety finish, while the Buffy-Sugo explosion will show an "extremely animated" anime woman with bunny ears and a heart symbol (for some reason).
In addition to the animated items, the new series is bringing the Dire Wolf wheels: